Argentina's pride: Bodega Trapiche is the New World Winery of the Year
The winery was the proud recipient of the Wine Star Award for New World Winery of the year, a recognition by Wine Enthusiast of its world-class quality and prestige.
Wine Star Awards, the most influential wine competition, has announced Trapiche as the New World Winery of The Year 2019. The award is presented by Wine Enthusiast magazine, the most renowned American wine publication worldwide.
Every year, since 2000, Wine Enthusiast's editors have acknowledged and commended individuals, companies and regions for their achievements and outstanding contributions to the world of wine. Winners are selected on the basis of factors such as their company and brand vision, their impact on consumers and on the wine business, as well as wine trends.
With this award, Trapiche is now making history, as this accolade praises the quality and work of the winery, sustained for over 135 years, in addition to the many contributions it has made to wine tourism and culture in the last few decades.
 Bodega Trapiche is the Best New World Winery
Daniel Pi, Chief Winemaker, said that "this award distinguishes Trapiche and Argentine wine as a whole. It commends our team's constant drive to improve, which has allowed us to achieve a leading position worldwide. Trapiche has a character of its own, one which places us at the level of some of the best wines in the world." On the other hand, Sergio Casé, current Winemaker at Trapiche, highlighted that "receiving this important award is a great honor. We believe it's the result of many years of dedication, passion and hard work by our entire team at Trapiche. It's also a recognition of each individual person in the company and the more than 300 small vine growers we work with."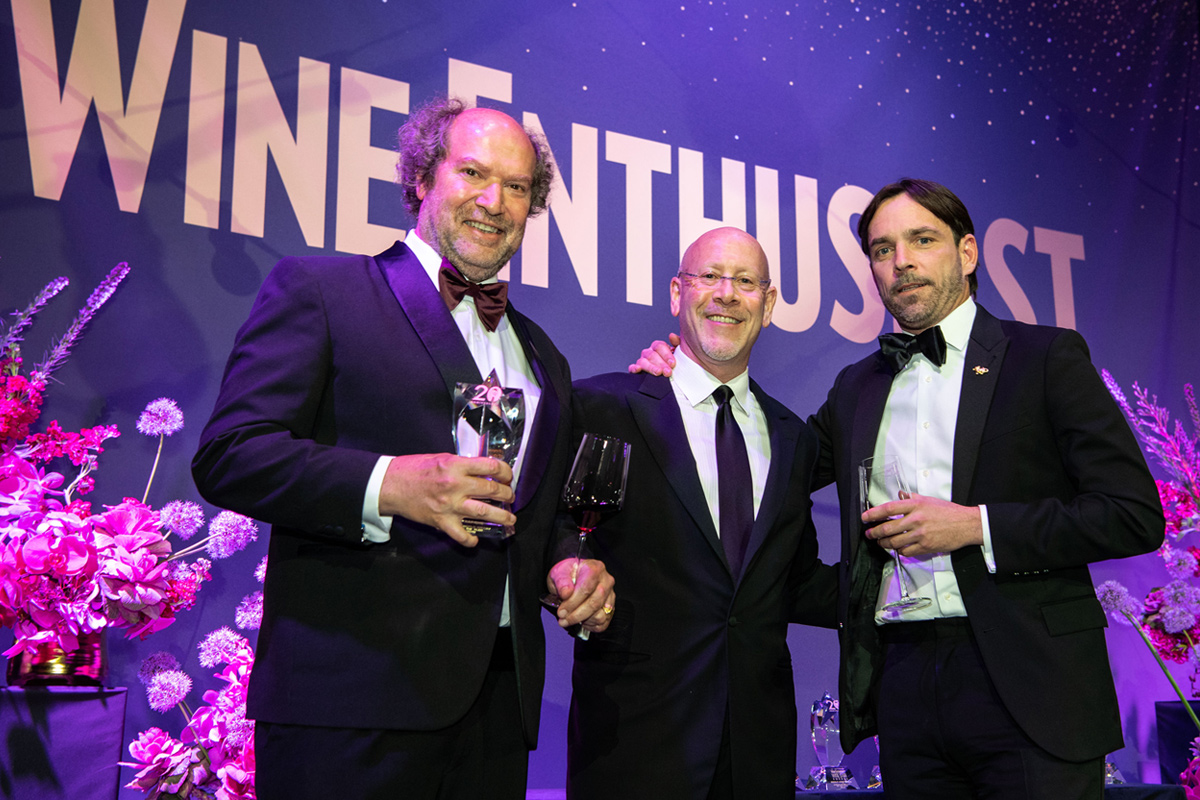 Daniel Pi, Trapiche's Chief Winemaker; Michael Schachner, Wine Enthusiast Editor for South America; and Diego Herrera, Board member of Grupo Peñaflor.
Marcelo Belmonte, Head of Viticulture, said about the award, "We are truly very happy about having been distinguished as Wine Enthusiast's New Wolrd Winery of the Year. It's the result of 135 years of work by the winery, which have earned us a unique know-how. Our work philosophy has always involved achieving excellence in all of our wines, paying attention to detail and embracing innovation along every step of the way. I think this represents an achievement for Argentina's winegrowing industry, and I hope it to further consolidate our country as an international quality wine producer."
Michael Schachner, Wine Enthusiast's editor for Spain and South America and a member of the judging panel, added, "Trapiche deserves this award for multiple reasons: it's a historical winery in Argentina that has managed to stand the test of time, not only by adapting itself decade after decade, but also by evolving day by day. Trapiche is a pioneer of Argentina's winegrowing industry and, as such, its enthusiasm for finding new terroirs and crafting quality wines across all price points definitely deserves praise. In addition, it boasts a solid team of skilled winemakers, a first-class hospitality and tourism area, and a vision that encompasses both present and future. Trapiche meets all the requirements a New World Winery may and should fulfill."
This award is the result of important milestones: Trapiche is Argentina's leading brand in export operations. It was ranked by Drinks International among the 50 most admired wine brands worldwide, which turned Trapiche into the only Argentine winery to receive five nominations, in 2014, 2015, 2017, 2018 and 2019. Additionally, Trapiche has been recently distinguished, for the fourth time in a row, as Most Awarded Argentine Winery in the World, by World Ranking Wines & Spirits (WRW&S).
Find out more this about this award here: