Iscay Malbec – Cabernet Franc: "the best Argentine wine in the world"
Wine critic James Suckling has recently made public the 2018 edition of his list of best wines in the world.
Internationally acclaimed wine critic James Suckling has just disclosed the latest edition of his top 100 wines of the year, based on the best wines he and his team have tasted. The list ranks prime samples sourced from the most prestigious winemaking regions in the world: Bordeaux, Italy, Napa Valley, New Zealand, Spain, and California, among others..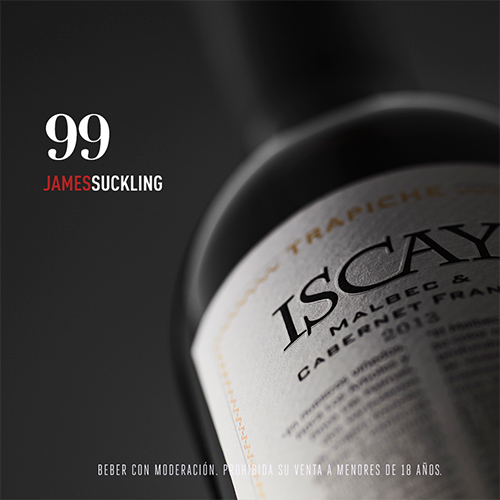 Bodega Trapiche received a special mention for its icon wine Iscay Malbec – Cabernet Franc 2013: not only was it chosen among the best 100 wines of the year, but it was also the best ranked Argentine wine in the list, in the 23rd place. This is the second time in the year that James Suckling awards Trapiche an international accolade. At 99 points, Iscay Malbec Cabernet Franc 2013 received the highest score among the wines in the report. Daniel Pi, Chief Winemaker, stated, "We're very happy and proud because Iscay, one of our most select wines, continues to bring us great satisfaction. This second distinction this year proves Iscay is a wine that speaks for itself and continues to captivate the most demanding palates in Argentina and the world."
James Suckling has established himself as one of the most influential wine critics, and his reviews are read and respected globally by wine lovers, collectors, and businesspeople alike. He is the CEO and editor of JamesSuckling.com, the wine media platform and events company that, for three decades now, has focused on the great wines of the world, including Italy, Bordeaux, Australia, New Zealand, and California, among others. After a series of scheduled blind tastings hosted at wineries, wine stores, and other venues, reports are drafted for hundreds of wines sourced from specific regions or appellations.
This new distinction continues to strengthen Trapiche's course of international recognition, and positions Argentina at the level of the best winegrowing regions in the world.